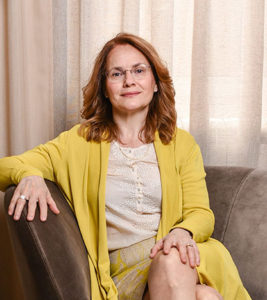 Milica Lundin is a Swedish professional pianist, piano teacher and culture project manager, who grew up in Belgrade. She got her musical education in Belgrade, Moscow and Vilnius. She thereafter expanded her education in art history and cultural policy and management at Stockholm University and in a joint Masters program of the Belgrade University of Arts and French University of Lyon 2. Her husband's diplomatic career has so far taken her to Lithuania, Russia, Germany and Serbia, although her place of permanent residency remains Stockholm. She speeks six languages.
Milica Lundin was born in the city of Cetinje (today in Montenegro, former Yugoslavia). She grew up in Belgrade (today capital of Serbia), where she received her musical education in the music school / gymnasium "Mokranjac" and graduated at the Belgrade Academy of music. She completed her studies in Moscow, at the Musical and Pedagogical Institute "Gnesini" and in Vilnius at the Academy of Music.
Since 1989. Milica lives in Sweden. She is married to a Swedish diplomat. Due to her husband's carrier she has spent many years abroad. In 1991-1997 she lived in Vilnius, Lithuania and in Moscow. 2001-2010 she was living in Belgrade and in Berlin.
While in Sweden Milica has been working as a substitute teacher in Nacka and Värmdö music schools, as a dance accompanist and as a teacher for piano/keyboard courses. Since 2010 she is self employed trough her private company. She teaches piano as an after-school activity in cooperation with different elementary schools in Stockholm and organizes cultural events. She had also broadened her professional profile by taking a course in Art History (2001) and in Cultural Project Management (2011) at the Stockholm University. In 2017 she took a masters degree in Cultural Policy and Management at UNESCO catedra in Belgrade arranged by Belgrade University of Arts in corporation with Université Lumière Lyon 2.
During her stay abroad Milica engaged herself in different projects and activities. She used her teaching skills by collaborating with local Swedish primary schools abroad as a piano instructor and choir accompanist. She organized and contributed personally in projects focusing on presentation of Swedish culture, especially music. One result of this is a concert followed by CD with Swedish vocal, piano and chamber music made in Belgrade. Milica also arranged and coordinated few of a TV transmitted celebration of the "Lucia" festivity for the Swedish Embassy in Belgrade.
Her most enriching teaching employment was in Belgrade, where she worked as a piano teacher in primary music school/music gymnasium "Mokranjac". During these four years her students won eight awards on various local competitions for young pianists.
Lately, Milica has been more active as a culture project manager. The fields of her interest are audience development, rural gender equality and cultural inclusion. Orfeus's partnership with the most prominent Serbian musical institution Ilija M. Kolarac Endowment resulted in a conference on audience development for classical music which gathered experts from Serbia and Europe in an attempt to promote and popularize classical music.